Ships: In 2 Business Days
KeelGuard by Megaware
Wear and damage to your boat's keel can break down its protective gelcoat finish, allowing water to reach and destroy the fiberglass laminates. Megaware KeelGuard, the powerful abrasion-resistant protector, prolongs the life of your boat like nothing else. It protects against sand, rocks, and ramps.
Megaware KeelGuard Patented Engineering
Every aspect of the patented Megaware KeelGuard has been designed with boat designers and 3M engineers. Many factors contribute to its success. A precise, abrasive-resistant blend of polymers and urethanes achieve optimal durability and pliability. A pressure-sensitive adhesive creates strength, while permanently bonding and sealing Megaware KeelGuard's contoured edges to the hull surface. Angled grooves produce hydrodynamic channels, creating air pockets and providing a slicker surface. The perfect combination of these factors makes the Megaware KeelGuard the easiest keel protector to install, and gives it unparalleled quality and dependability.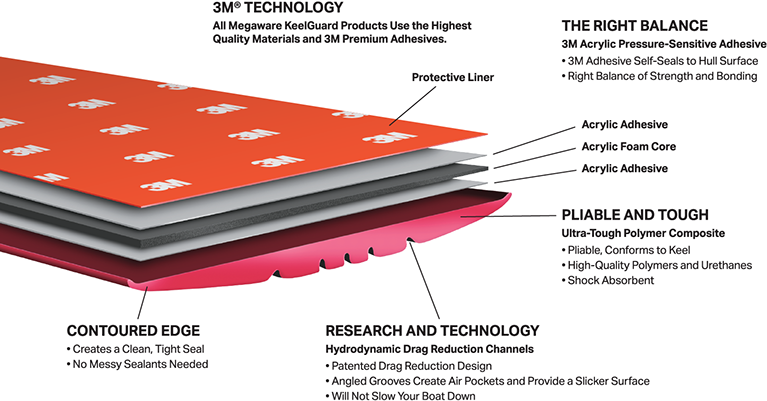 Megaware KeelGuard Sizes and Colors
Megaware KeelGuard comes in 11 great looking colors to match virtually any boat. All colors are UV-stabilized for true color that lasts a lifetime. Megaware KeelGuard is available in nine standard lengths or can be ordered in custom lengths.
Sizes
All KeelGuards are 5" Wide.
| Keel Guard | Boat Size |
| --- | --- |
| 4 ft | Up to 14 ft |
| 5 ft | Up to 16 ft |
| 6 ft | Up to 18 ft |
| 7 ft | Up to 20 ft |
| 8 ft | Up to 22 ft |
| 9 ft | Up to 24 ft |
| 10 ft | Up to 26 ft |
| 11 ft | Up to 28 ft |
| 12 ft | Up to 30 ft |
Free installation kit with every purchase! Download KeelGuard Installation Instructions
Please be aware that all products have a production or warehouse lead time. This is the number of business days (typically not including the day the product was ordered) that must pass before the item begins the shipping process. Please see the "Ships: In" information located within the main product description to the right of the product image and below the ADD TO CART button for that particular product's "Ships: In" timeframe.
IMPORTANT: Please note that these timeframes are estimates only based on the latest information provided to us by the manufacturer/supplier. Delays in both material, production and shipping timeframes by manufacturers can vary without advanced notice and while we do our best to keep "Ships: In" timeframes up to date we may not always be able to do so due to a variety of factors.
If a product is needed by a specific date we strongly recommend you reach out to our Sales team (1-800-869-1686) to verify shipping timeframes.
Canadian orders please add an additional 14 business days for processing and shipping. Alaska and Hawaii orders please add 1 additional warehouse processing day.

WARNING: Cancer and Reproductive Harm - www.P65Warnings.ca.gov.